FALL 2020
ASC Finance, Accounting and  Reimbursement Seminar
Presented by:
Coding Compliance Management, LLC
and the
ASC Podcast with John Goehle
December 3rd and 4th 2020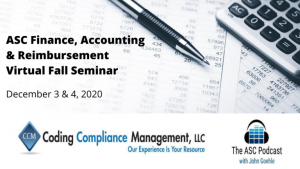 Join ASC industry experts John Goehle MBA, CASC CPA, Cristina Bentin, CMA, CPPM, COC, CCS-P, Margie Scalley Vaught CPC, CCS-P, COC, and various guest speakers for this intensive 2-day Virtual Conference to include Finance, Accounting, and ASC Reimbursement and Coding Updates for 2021.
---
TWO SESSION TRACKS
This conference will offer two tracks:
(1) ASC Finance and Accounting
(2) ASC Reimbursement and Coding Updates 2021
Participants are given the flexibility to determine the session to attend each hour.
---
CONTINUING EDUCATION
CASC AEUs are pending for up to 14 AEUs CASC-Certified Administrators.
AAPC CEUs are pending for up to 14 CEUs pending need for Core A, Core B, and/or specialty CEU requirements/AAPC allowances.
---
About Your Speakers
John J. Goehle, MBA, CASC, CPA is one of the ASC industry's leading experts in regulation, administration, and finance/accounting. As an author of over 10 books about the industry, frequent speaker on finance, regulation and administration and a consultant, Mr. Goehle brings a broad perspective to any educational platform.
Cristina Bentin, CMA, CPPM, COC, CCS-P is also recognized as a leading freestanding ASC revenue cycle educator, speaker, and writer with over 29+ years of hands-on experience in ASC multi-specialty facility reimbursement and/or physician office operations. Cristina's expertise extends to her involvement as expert witness in fraud investigations.
For More Information and to Register:
Fall 2020 ASC Finance, Accounting & Reimbursement Seminar Agenda and Registration